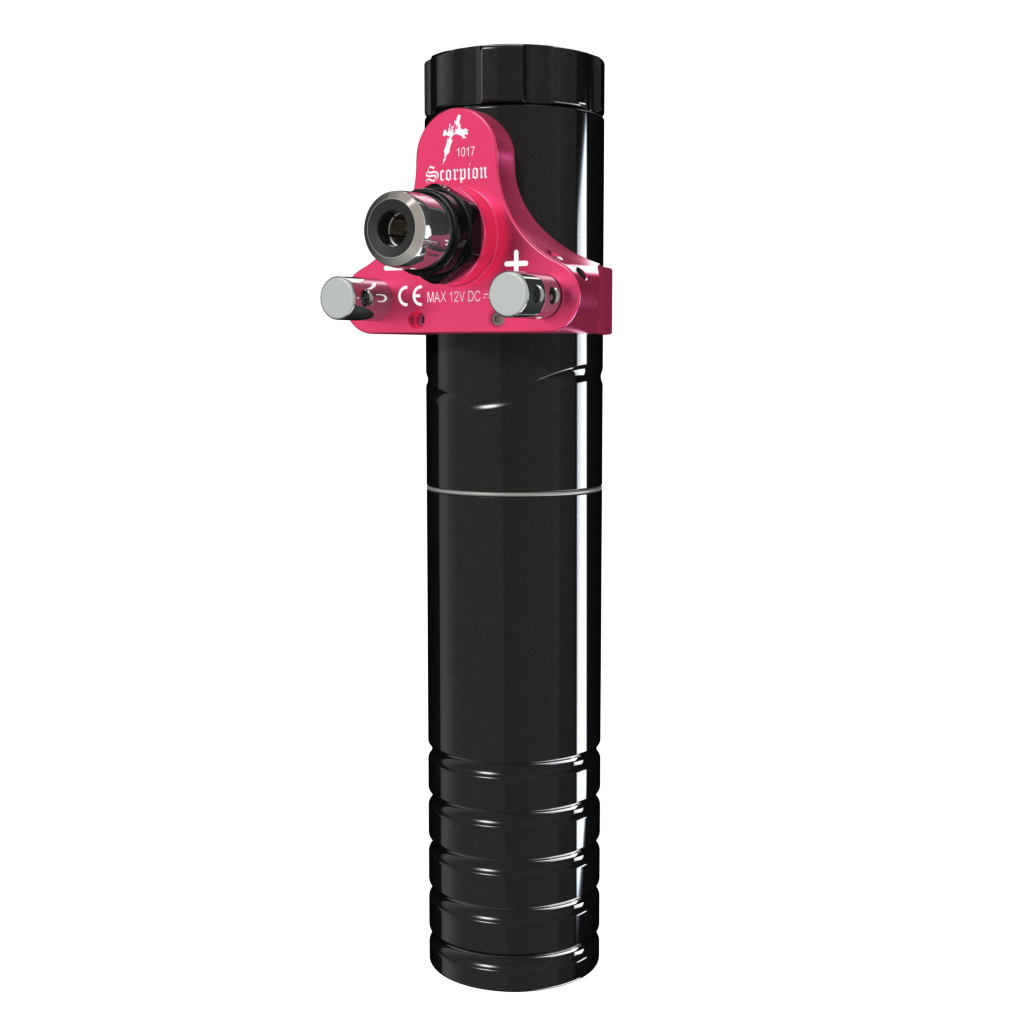 Designed with the tattoo artists in focus and ready to take tattooing to the next level. Only for use with Neo-Cartridges.
Designed with the tattoo artists in focus
With active vibration damping, smooth contactless magnetic needle drive and improved cross contamination control. The unique kinetic design allows fast saturation but also does minimal damage to the skin.
The Scorpion utilizes Neo cartridge needles especially designed for best possible hygiene and smoothness. Organizing and overall workspace orderliness is easier than ever with magnetic fixation, secures the needles where you want them when working.
Included in the box
1pcs Scorpion tattoo machine with standard 22mm aluminium grip and Standard drive magnet (White).
1pcs Drive magnet Strong (Red). Good for tough skin. Can also be used for needle inspection.
1pcs Torx T6 key. (1.3 hex key can also be used).
1pcs Needle stand. 4 needles can be placed on this stand. Add extra stand if more needles are used.
1pcs Oil.
Extremely low vibrations
Smooth non-contact magnetic drive
Minimal skin damage
Fast saturation
Effortless start
Very high durability
Exchangeable drive magnets for soft or hard hit
Balanced weight ( 100g with disposable grip )
Removable grip, easy cleaning and service
Excellent cross contamination safety
Works with regular power supplies 0-12V
RCA and clip cord connections
Wireless ready
Disposable grips available
Input voltage: 0 - 12 volt DC (max. 12 volt DC)
Power connections: RCA or clipcord (max. clipcord end diam Ø1,6 mm)
Rpm range Stitches / sec: 0 - 8 000 rpm / min 0 - 130 / sec
Stroke length: 4 mm
Needle adjustment: 4 mm
Machine diam: Ø22 mm
Max. needle size: 27 magnum
Weight: 100 grams with disposable grip
Wireless ready: Yes
Dimensions ØxL: Ø22 x 113 mm mm