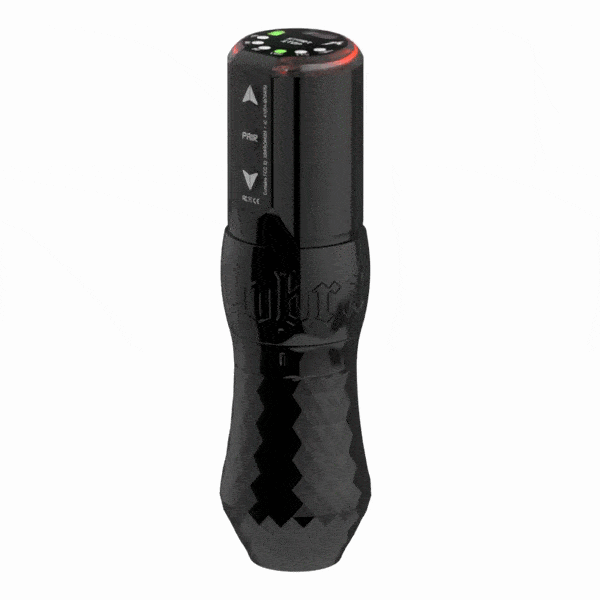 For Neo-Cartridges or Regular Cartridges with adjustable stroke length. Can be converted within a couple of minutes.
Configure with one or two Powerpacks, grip size and RCA adapter below.
Add a footswitch here
Without a doubt he most sophisticated machine we have ever built.
The design gives unparalleled performance as the batteries are placed around the motor instead of above it, which allows for both stronger motor and higher capacity batteries in a minimal space. The integrated and detachable 2760mAh capacity battery is a fully fledged BLE power supply that will meet the most demanding needs. The Cobra can be controlled as standalone with the onboard buttons or by wireless BT devices such as the InkMachines foot switch and smartphone App. Merges seamlessly into the TPS X2 system for the optimal experience. Large grips and balanced weight for excellent comfort to handle long demanding sessions. All necessary parts and tools are included in this version to convert needle type and change the stroke length. Instructions on how to convert and change stroke length is provided in the videos below or in the manual under this products download page.
Included in the box
1pcs Cobra tattoo machine with aluminium grip of choice for Neo-cartridges
1pcs Cobra Powerpack complete power supply
1pcs EXTRA Cobra Powerpack complete power supply ( Optional )
​1pcs RCA adapter ( Optional )
1pcs Drive magnet Standard (Black)
1pcs Drive magnet Soft (Blue)
1pcs Tool kit No.90
1pcs Conversion kit No.110
1pcs Needle stand. 4 needles can be placed on this stand. Add extra stand if more needles are used
1pcs USB-C cable 1m
1pcs Oil
Adjustable Sroke length 3 - 4 mm
Stand-alone operation with buttons
Smooth non-contact magnetic drive
Excellent cross contamination safety
Extremely low vibrations
Exchangeable drive magnets for soft or hard hit
Minimal skin damage
Fast saturation
Magnetic push/pull powerpack connection
Powerful 8+ Watt motor
Industry leading battery capacity
Balanced weight
Extremely durable
Magnetic power connection
Wireless BLE
Bayonet mounted grips
Multi-color halo light
Integrated status lights
App connectable
Works with regular power supplies 0-12V
Disposable grips available
Chargable with USB-C or TPS charger bay
Needle depth adjustment by rotating powerpack
Input voltage: 0 - 12 volt DC (max. 12 volt DC)
Power connections: Powerpack or RCA
Battery capacity: 2760mAh
Rpm range Stitches / sec: 0 - 8 000 rpm / min 0 - 130 / sec
Stroke length: Adjustable 3-4 mm
Needle adjustment: 4 mm
Machine diam: Ø37 mm
Max. needle size: 27 magnum
Weight: 200-270 grams depending on grip choice
Wireless: Yes
Dimensions ØxL: Ø37 x 133 mm